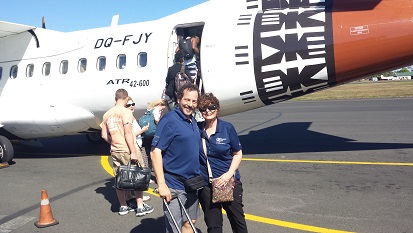 The U.S. Embassies, The Department of Defense and The Armed Forces Entertainment personnel often referred to The Dina Preston Band as "Ambassadors of Goodwill". The following galleries shares their 20 years performing in over 43 countries and 26 tours for our troops, U.S. Embassies and various corporate event clients. (Click on yellow links to review picture galleries) The Dina Preston Band's Long Tour History Include the Following:
2016: US Embassy Suva (Fiji & Kiribati) Tour
Dina Preston Band "Rockin" Country Tour & Music Business Outreach Program (Hungary)
Cabo Celebrity Golf Tournament Concert
South Korean 5 week tour
Armenia Outreach Program 4 week tour
Azerbaijan Outreach Program
2005: Armed Forces Entertainment:
Guantanamo Bay New Year's Eve performance
2004: Armed Forces Entertainment: Operation Iraqi Freedom 4 week tour
Spain, Italy, Turkey & Egypt
2004: Armed Forces Entertainment Caribbean Tour 4 week tour
4th of July Guantanamo Bay, Honduras & Puerto Rico
Belgium (Fourth of July) NATO Base
2002-2003: Armed Forces Entertainment
Bahrain, Kuwait, Qatar "The Stains" (Afghanistan, Kyrgyzstan, Uzbekistan)
2002: Corporate Sponsored Cultural Tour (Jones Osborn Law Firm)
Moscow, Russia & Riga, Latvia
2002: Armed Forces Entertainment Operation Enduring Freedom
Turkey, Italy, Spain (New Year's Eve) France, Lisbon, Portugal
2001: Armed Forces Mediterranean Tour
Saudi Arabia (New Year's Eve), Jordan (U.S. Embassy)
2000: Armed Forces Entertainment Pacific Tour

South Korea, Okinawa, Guam, Johnston Atoll & Hawaii
1999: Armed Forces Entertainment & U.S. Embassy Middle East & Africa
Kuwait, Saudi Arabia, Oman (U.S. Embassy), United Arab Emirates, Bahrain, Mozambique, Africa (U.S.Embassy)
1998: Armed Forces European Tour
Iceland, Germany, Benelux, Hungary, Croatia & U.K.
Johnston Island (New Year's Eve)
South Korea, Okinawa, Guam, Johnston Atoll &Hawaii
Turkey, Greece, Crete, Italy & Spain
Iceland, Germany, Benelux, Netherlands, Croatia & Macedonia
South Korea, Japan, Okinawa, Johnston Atoll & Hawaii
Bahrain, United Arab Emirates, Fujairah, Diego Garcia & Japan