Get ready for The Dina Preston Band's electrifying performance on May 20, 2023 in Tunis, as they take center stage performing with Tunisian artists. This exciting tour is organized by U.S. Embassy Tunisia with support from the U.S. Department of State's Bureau of Educational and Cultural Affairs' Arts Envoy program and American Voices. The tour includes concerts in Tunis, Djerba, Gafsa, Kairouan, and Sousse where the band will showcase their musical talents and provide workshops on cultural entrepreneurship.
With 27 world tours and performances in 44 countries, the Dina Preston Band has left an indelible mark on the global music scene. Led by Dina Preston-Ortiz and her husband, Don Ortiz, this talented group of musicians has received multiple awards, including the United Nations Protection Force and U.S. Task Force Provide Promise Distinguished Service Certificate. In addition to her music career, Dina has also earned recognition as a business professor. Dr. Dina's academic work has earned her numerous accolades, such as the AACC Dale P. Parnell Faculty Distinction Recognition and the National Institute for Staff and Organizational Development (NISOD) Excellence Award. The band's exceptional musicians – Henry Lara on drums, Ken Skaggs on pedal steel, and Mark Peotter on bass – bring unmatched talent and experience to the stage. Their music has delighted audiences worldwide, and Dina and Don's lectures on entrepreneurship have inspired many aspiring music, and business entrepreneurs.
The Dina Preston Band, in collaboration with students from the network of music clubs Tunisia88, will also present "When The World Calls Your Name," a song off their new album release, "We've Been Everywhere." This project blends American and Tunisian musical influences in a unique and exciting way. The project showcases a fusion of traditional Tunisian vocals and rhythms with American classic pop sounds, resulting in a fresh and global experience. The lyrics of the song emphasize themes of family togetherness and optimism and are performed in both English and Arabic. As part of their Arts Envoy and education goals, this project highlights the diversity of both countries, their rich musical heritage, and demonstrates the unifying power of music.
The collaboration between The Dina Preston Band and Tunisia88 showcases how music can bring people from different backgrounds together to create something truly remarkable. Don't miss the chance to witness this incredible collaboration and experience the uplifting power of music.
Don't miss out on Dina Preston Band's unforgettable- When the World Calls Your Name Tour Stops!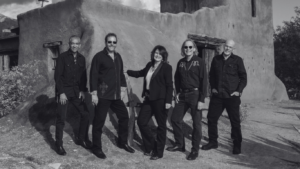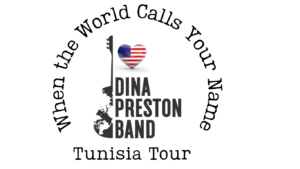 #dinaprestonband #wevebeeneverywhere #renaissancerecordsusa #tunisia88 #usembassytunis #AmericanVoices #usdepartmentofstate #whentheworldcallsyourname #newmusicvideo #culturalcollaboration #tunisia #dinaprestonbandtunisatour #onerpmnashville